How OneSky Works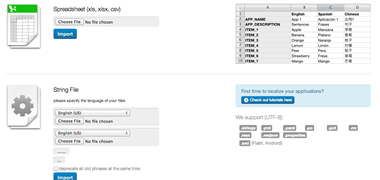 1. Import Content
Simply upload your resource files or integrate with our API to automate file transfers. Our system would auto-analyze the files and extract the content to be translated. Learn more.
We support 10+ popular file formats, including .strings, .xml, .yml, .yaml, .po, .pot, .rrc, .resx, .resjson, .properties, .xls, .csv., etc.. No more time-consuming and error-prone file format conversions!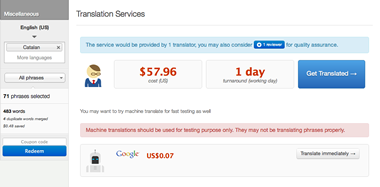 2. Choose Your Translation Methods
Select whether you want to hire professional translators from OneSky, manage your own translators or crowdsource it to your users.
Use a mix or switch between options easily, e.g. invite your staff to translate your site into languages that they know & hire pros for the rest!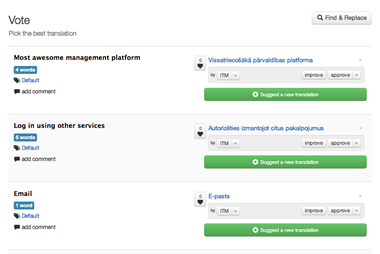 3. Get Translated
If you order professional translation from OneSky, your projects would be picked up by our professional native translators.
Our platform are tailor made for translating mobile apps & websites. Powerful features that enhance quality and efficiency include:
Auto-checking for duplicate strings
Translation memory
4. Export Translated Files
When the translation is done, simply download it in ready-to-use resource file formats. You can also integrate with our API to automate the file transfers.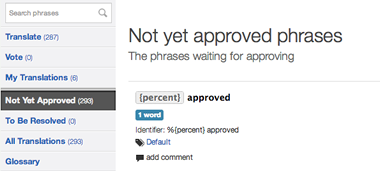 5. Repeat for Subsequent Updates
Simply upload your resource files again and our system would detect what are new. Never translate or pay for the same content twice!
No long-term contracts, pay-as-you-go.
Just one step further and you'll be reaching your global audience.
Get Translated